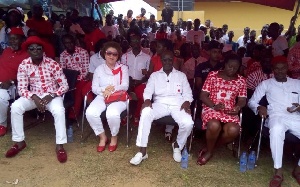 The flagbearer of the Progressive People's Party (PPP), Dr Papa Kwesi Nduom, has asked the people of Ofoase Ayirebi to reject non-indigenes who have only traced their roots to the town because their ambition to become Member of Parliament.
He also urged the electorate not to yield to the misconception that a vote for the PPP would be a wasted one, but note that a wasted vote was one that did not bring jobs.

Dr Nduom was speaking at the launch of the campaign for the PPP parliamentary candidate of the area, John Obiri Yeboah. It would be recalled that Mr Yeboah crossed carpets from the New Patriotic Party (NPP) after he lost a fiercely contested primary to former radio broadcaster Kojo Oppong Nkrumah.
Addressing the crowd, Dr Nduom said: "It is during elections that people travel back to get to know their hometowns and where they come from. During elections, vote for someone you know, someone who has helped you before. Vote for someone who knows your problems and your wants, not someone who only identifies his hometown and comes back home during elections. Vote for a true indigene of the land, that is why I am here to unveil an indigene of this town to you. He is in the person of John Obiri Yeboah."

In his opinion: "A wasted vote is a government that will bring you 'dumsor' (power outages), a wasted vote is a government that will bring you unemployment with no money in your pockets and leave you in poverty. That is what a wasted vote is, so vote for the Progressive People's Party and vote for John Obiri Yeboah."