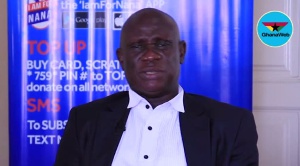 Thu, 23 Jan 2020 Source: Richard Obeng Bediako, Contributor
The Deputy General of the ruling New Patriotic Party (NPP), Nana Obiri Boahen says the National Democratic Congress (NDC) can decide to boycott the compilation of new voter's register which is scheduled to come on April 18, 2020.
The Electoral Commission (EC) says it will begin compiling the new voters register for the December 2020 elections in April.

Obiri Boahen, therefore, dared the opposition party to boycott the registration exercise to demonstrate their seriousness.

"The good people of this country shouldn't be deceived by this deception of evil NDC, they can decide to boycott the upcoming new voter's register exercise we don't care, We are waiting for the Electoral Commission to come out with the days and plan for the movement of their machines and the periods for the registration exercise for us to get ourselves registered," Nana Obiri Boahen told Kwame Tutu on 'Anopa Nkomo' on Accra-based Kingdom FM 1O7.7
He stressed that elections and registration are not compulsory so the NDC can stay on the old register if they believe the new one is unnecessary and needless.

Meanwhile, the EC says the procurement of the new BVMS and compiling of a new register will save the country GH?173.07 million, compared to upgrading the current system.

The Commission intends to complete the exercise by May 30, 2020.
Source: Richard Obeng Bediako, Contributor