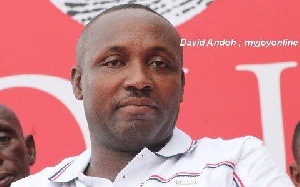 The opposition New Patriotic Party (NPP), has revealed on Rainbow Radio 87.5fm that, it will not invest in huge rallies and huge billboards this election year.
Acting General Secretary and National Organizer of the party, John Boadu in an interview with Rainbow Radio's Kwame Tutu, gave the hint when he was asked to state when the public will see their huge rallies and billboards like the incumbent party, National Democratic Congress (NDC).

The presence of giant billboards of the ruling party could be seen in major cities and streets across the country. Some analysts have said, if billboards were the decider for this year's election, the NDC will win by one touch.

Meanwhile, John Boadu has said, the party will not invest in huge rallies as part of their campaign strategies for this year's year's election.

The party he explained has adopted a more flexible campaign strategy by going directly to the people.
John Boadu further revealed that, they party will continue with its regional tour adding that, ''let those who have the money continue to spend it on huge rallies and giant billboards.''

The party will on Sunday, October 9, 2016 launch its manifesto termed, 'Manifesto of Solutions at the Trade Fair Centre La, Accra in the Greater Accra Region.

Former President John Agyekum Kufour will lead the launch on Sunday, the party has confirmed.

"The launch of the manifesto, which contains the solutions Nana Addo Dankwa Akufo-Addo and the party propose to help fix the myriad of problems facing the country, including how to resolve the unemployment problem among young Ghanaians, will be held at the forecourt of the Accra International Trade Fair Centre."