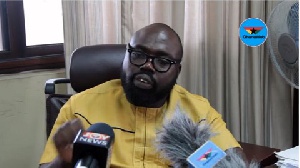 The Deputy General Secretary of the opposition National Democratic Congress(NDC), Peter Boamah Otokunor has said when it comes to "fighting", the ruling New Patriotic Party(NPP) knows they cannot match the NDC.
The Deputy NDC scribe was speaking on Nhyira FM in Kumasi on Monday, February 4, 2019, monitored by MyNewsGh.com.

"The NDC can fight better than the NPP and they are aware of this fact. But we did not fight at Ayawaso for the sake of peace." He pointed out.

"But the NPP should know that we shall prepare well for them. Self-defence is permitted even in the Bible, and that is what we shall do", he said, adding that "If you try to kill a cat and you fail, you should know what that cat will do to you".

According to him, the NDC as a party has picked valuable lessons from the scuffles that occurred during the Ayawaso West Wuogon by-election and will advise themselves accordingly warning the NPP to get ready for what will hit them.

"The NPP should be ready, yeah they should prepare," he screamed.
He said the NDC has come to the realization that the police cannot be trusted to protect them so they are preparing to protect themselves.

"We have realized that the police, who are paid with the taxpayers' money, cannot protect us so we shall prepare".



Parallel security set up

A security analyst Dr Emmanuel Kwesi Aning has said the government is running parallel security set up, calling for Parliament to haulBryan Acheampong to answer for what happened.
"Let Parliament's Defence and Interior Committee haul him before them and let him demonstrate when they were recruited, how many of them were trained and who they report to?

"This is a parallel organization, increasingly dangerous, uncontrolled and uncontrollable. History teaches us one lesson; Liberia, Guinea, Sierra Leonne, La Cote D'Ivoire started that way. We are heading down a dangerous and slippery slope," he said.

His comments follow the violence that ensued when masked men who are alleged to have fired gunshot and even slapped Ningo-Prampram MP Samuel George.