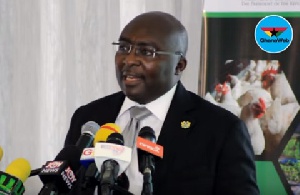 The Vice President, Dr Mahamudu Bawumia has dismissed claims that the Free Senior High School (SHS) Programme could collapse due to lack of finances and gave the assurance that there was enough money for its long term implementation.
He said the over GHC 1.2 billion allocated to the implementation of the free programme this year, was a clear indication of the Government's commitment to ensure its sustainability.

According to him, the free SHS remained a top priority of the government and as such would continue to channel enough resources to address its challenges as and when they appear.

Speaking at the opening of the Fifth Quadrennial and 52nd National Delegates Conference of the Ghana National Association of Teachers (GNAT) at Cape Coast on Thursday, the Vice President emphasized that "we can afford the free SHS".

He said the free SHS coupled with the restoration of nurses and teacher trainee allowances as well as 100 per cent increment in the Capitation Grant was a further demonstration of the Government's commitment to education.

Dr Bawumia further disclosed that the Ministry of Finance had released GH¢14,172,313.23 for the payment of outstanding transfer grants, allowances and salary arrears for validated teachers engaged between January 2013 and December 2016.
He noted that issues of validation and arrears of teachers had been a major challenge in the educational sector for years, with newly engaged teachers bemoaning the long delays they had to endure before receiving their salaries.

He, therefore, gave assurance that the Government would do everything humanly possible within its power to better the lives of teachers adding that, a motivated teacher was key to delivering on the vision of the President and the Government to ensure quality education.

Dr Mathew Opoku Prempeh, the Minister of Education said ensuring quality education was a collective responsibility of all stakeholders and advised parents to play their respective roles to make the government's free SHS beneficial to their children.

Madam Philippa Larsen, the acting National President of GNAT expressed the fear that the issue of accumulating salary arrears and its attendant challenges on the national budget was gradually creeping into the pay administration system of the country.

She therefore appealed to the government to critically assess the situation with the aim of correcting it without any further delay because it demoralized workers' enthusiasm