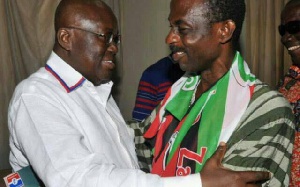 The General Secretary of the opposition National Democratic Congress (NDC), Johnson Asiedu Nketia, has said that the party will school President Nana Akufo-Addo and the New Patriotic Party (NPP) on how to be responsible when not in power.
"We have shown Akufo-Addo and will continue to teach him how to be responsible in opposition," he told Chief Jerry Forson on Accra FM's Ghana Yensom on Tuesday, January 10.

Mr Nketia criticised Mr Akufo-Addo, for initially refusing to accept the results of the 2012 elections and proceeding to court to challenge the outcome – a case he and the NPP lost. The NDC, however, according to Mr Nketia, popularly known as General Mosquito, acknowledged its defeat in the 2016 elections without fuss.
He pointed out that ex-president John Mahama and the party further cooperated with the NPP to ensure a smooth transition, drawing praise from various leaders across the world while Mr Mahama witnessed the investiture of Mr Akufo-Addo, further emphasising the maturity of the NDC.

"If Mahama refused to go to the inauguration and went to gather lawyers in preparation to go to court or former President Rawlings declined to attend the inauguration, would we have been honoured by the international community?" he questioned. "That is the first step and we will continue as the days go by."