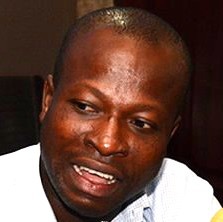 Tue, 10 Nov 2015 Source: peacefmonline
Former General Secretary of the Convention People's Party (CPP), James Kwabena Bomfeh, has called on the Electoral Commission to have a national data system.
According to him, there is no need for a new voters register to be compiled unless the EC has an adequate database.

Speaking to host, Kwami Sefa Kayi, on Peace FMs 'kokrokoo', James Kwabena Bomfeh says the opposition New Patriotic Party's (NPP) petition for a new register is not the solution to Ghana's electoral challenges.
He argued that without a national database, a new voters register will still be replete with irregularities and the same issues for which the NPP is calling for a new register.

"We don't have a national data system. So, sometimes I wonder that we're calling for a new one to be done. What is the superior database that will be your primary source for you to compare to? Are you not going to fall into the same challenges you are complaining about…So, we keep doing new registers and keep faltering. What kind of culture and what kind of environment and system are we seeking to build?" he queried the NPP on 'Kokrokoo'.
Source: peacefmonline