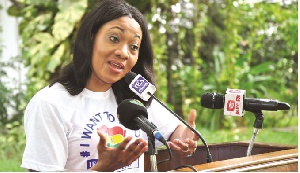 The Electoral Commission (EC) has denied a news report filed by Classfmonline on January 10, 2020 with the caption "The public can't dictate to us, we'll work our plan for a credible poll – EC".
According to the EC, the article is an attempt to malign the commission's reputation and integrity during these hard times they are faced with, on the new voters' register which is creating a simmering tension between political parties.

In a press release signed by the Director of Public relations, Sylvia Annoh copied to GhanaWeb, the EC stated that "despite the guarantee of its independence as enshrined in Article 46 of the 1992 constitution, it does have consultations with stakeholders which include political parties, civil society organisation, media and many more in its quest to bring democracy to the doorstep of all Ghanaians".

It further noted that the commission will not compromise its stance on matters that are not in the interest of Ghanaians.

The opposite, when done will be a contravention of the principles of electoral justice to the detriment of our electoral process and democracy the country is enjoying.
The Electoral Commission is, however, calling on the reporter to "retract the publication and correct the erroneous impression regarding the commission's justification of the new voter management system and the new voters' register".

Read below the EC's statement