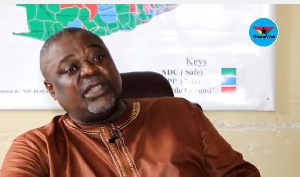 The New Patriotic Party (NPP), will be punished at the polls in 2020 it should fail to apologise to Ghanaians for making unnecessary noise over the decision by government under former President Mahama, to resettle the two Guantanamo Bay detainees in 2016.
He slammed the ruling government for the position it took in 2016 when it was in opposition.

Speaking to Kwame Tutu on Rainbow Radio 87.5Fm, he said the NPP just made empty noise in opposition and instead of apologizing to Ghanaians; they are exhibiting their ignorance and arrogance and accusing the NDC of tying their hands on the matter.

The ruling government has accused the NDC of tying its hands when they granted the two detainees refugee status.

Mahamud Umar Muhammad Bin Atef and Khalid Muhammad Salih Al-Dhuby-were resettled in Ghana in January 2016 following an agreement between the John Mahama government and the Barack Obama led-US administration.

The Yemenis were detained at the Guantanamo Bay for 14 years after they were linked to terrorist group, Al-Qaeda and were released as part of US government's plan to shut down the facility.

Their stay ended on January 6, 2018, but the ruling NPP has said the men have been granted a refugee status without its knowledge.
However, Koku Anyidoho says the NPP is only exhibiting their high level of ignorance and lacing it with arrogance as well as immorality.

He said if the NPP is moral, they would have apologized to Ghanaians for making noise over the Gitmo 2 saga in 2016.

''Let Akufo-Addo and his people come and apologise to the people of Ghana on the issue of Gitmo. We can forgive them and move on. But if they continue on this way, exhibiting their high level of ignorance and lacing it with arrogance, we shall punish them in 2020,'' he concluded.