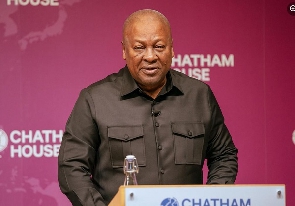 The Director of Communications of the governing New Patriotic Party (NPP) has stated that the party is unperturbed by the decision of former president John Dramani Mahama to run for president in the 2024 general elections.
Richard Ahiagbah told press men (February 22) that having defeated Mahama twice (in 2016 and 2020), the NPP has no fears facing him for a third consecutive time.

"We have beaten him twice, so you just conclude for yourself if we are afraid of him. It is all mathematical, and we have defeated him twice. He is even afraid to plainly declare whether he is going to contest or not. We are ready for him."

According to Ahiagbah, the NPP's major preoccupation now is to improve the economy and ease the cost of living crisis that citizens have been faced with for the past few months.

"We are interested in how we can build our economy, and we want to know whether he has the solution because we saw him vanquish the gains that he got, and we saw him collapse our economy and banking sector.

"He doesn't have what it takes to improve Ghana because if he had what it took to do that, he wouldn't have vanquished our economic gains and taken us to the IMF," he stressed.
Mahama declares bid, picks nomination forms

Mahama's formal intention to run for a third consecutive shot at the presidency was reported when a number of NDC MPs confirmed that he was going to contest.

On February 22, forms were picked on his behalf by Prof. Alabi and regional chairmen amid fanfare. Mahama is expected to address the media in due course to formally announce his bid.

Mahama's political roots date as far back to the days of Ghana's independence when his father served in the Nkrumah government.

John Mahama, a political throughbred
He is reputed to be one of the most thoroughbred politicians of the Fourth Republic having served from the local level (Assembly) through to becoming a Member of Parliament for Bole Bamboi on the ticket of the National Democratic Congress.

Mahama held deputy minister and ministerial portfolios under the Rawlings government before rising to become vice president under John Mills and president when he took over from Mills then won his first full term in 2012.

He is widely expected to contest for the presidency come 2024 as he seeks a final term in office on the back of two straight defeats to President Nana Addo Dankwa Akufo-Addo in 2016 and 2020.

Meanwhile, catch the latest GhanaWeb TV Election Desk interview with Francis Addai-Nimoh, as he discusses his plans to become the NPP's flagbearer, below:




You can also watch this episode of People & Places here:



SARA