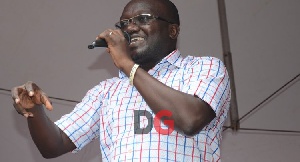 Members of the opposition New Patriotic Party (NPP) say they would not allow any political party, especially the ruling National Democratic Congress (NDC) to intimidate them in this year's elections.
Speaking at the launch of the 'Adopt-A-Polling Station' programme in Accra yesterday, the NPP parliamentary candidate for the Odododiodioo Constituency, Nii Lantey Bannerman, said they would do everything possible to protect their supporters.

Ploy

Mr Bannerman said this in response to attacks on some members of the NDC, who defected to the NPP, by NDC hoodlums on Tuesday evening.

According to him, without provocation, the NDC thugs went from house-to-house and attacked them brutally, resulting in many casualties.

Some of them have been hospitalized at the Korle Bu Teaching Hospital (KBTH).

"Let no one feel intimidated; let no one be cowed into fear…they have brought it on themselves and we will match them boot for boot."
Assurance

"Let me assure all of you here that this year, what happened in Odododiodioo in 2012 will not happen again," he told the charged supporters, who had assembled at the famous 'Drug Lane' in Okaishie, Accra Central to witness the launch of the 'Adopt-A-Polling Station' programme, which is intended to help raise funds to support the party's polling agents in the December polls.

He therefore urged the party members to contribute to the cause of the NPP by supporting the constituencies financially in order to promote their interest and help ensure the much-needed change they all desire to see after December 7.

"It would enable us to prevent those things from happening; so that if someone comes to attack one of our own, we can also get people to prevent any form of intimidation," he said.

Polling station adoption

On his part, Acting General Secretary of the NPP, John Boadu said it would require not less than GH¢500 to cater for the party polling agents who would man each of the over 29,000 polling stations across the country.
He therefore urged the rank and file of the party to adopt at least one constituency.

In order to adopt polling stations, people have been called upon to send money to mobile money number 0548407629.

An account has also been created at the Kojo Thompson Road Branch of Zenith Bank under the name 'I am for Nana Foundation' with the account 6010614929 in which contributions could also be sent.

'Adopt-A-Polling Station' forms have also been deposited at the various NPP offices across the country with soft copies available on www.iamfornana.com/adopt

Present at the ceremony were National Campaign Manager, Peter Mac Manu, Chairman of NPP Fundraising committee, Ken Ofori Atta, Greater Accra Regional Chairman of the party, Ishmael Ashittey, Deputy Communications Director and the NPP's Parliamentary Candidate for Lawra, Anthony Karbo, Parliamentary Candidate for Ablekuma South, Jerry Ahmed Shaib, Ablekuma Central, Ebenezer Nartey and a host of others.