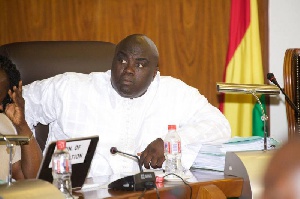 Thu, 20 Oct 2016 Source: Samuel Ablordeppey
The Chief of Staff Mr. Julius Debrah has stated that the National Democratic Congress (NDC) government under President Mahama would not take the people power for granted.
He said President Mahama has proven beyond reasonable doubt that he is a leader who does not only promise, but walks his talk thus the need to retain him to continue with the development process which will enhance the living conditions of all.

"I can testify that President Mahama is not somebody who engages in vain promises. He is determined and all the assurances he had given to you and the Brong Ahafo region shall come to pass. I urge you all to vote for President John Dramani Mahama and the parliamentary candidates for accelerated development," Julius Debrah said.

The Chief of Staff who is in the Brong Ahafo region for a five day campaign tour said , he is optimistic President Mahama would win the elections.

The Chief of Staff, took his campaign to the Brong Ahafo region, after President Mahama and his wife Naa Dr. Lordina Mahama toured the area.

His mission is to sustain the momentum and the energy in ensuring President Mahama and the NDC win the 2016 December polls comprehensively.
Addressing the Chiefs and people of Nchiraa in Wenchi on day two of his five day tour, the Chief of Staff said the First Lady hails from the region thus the need to retain their in law to continue with his vision to create jobs, invest in the people and expand the infrastructure in the area.

The President Mahama administration has undertook a lot of developmental projects in the area including the construction of schools, nursing training colleges, roads, water provision, electricity, polyclinics and numerous CHP compounds and many more.

He assured them that President Mahama is a leader they can trust to address their concerns as well as create an enabling environment for businesses to flourish.

On his part, a leading member of the NDC Professor Kwamena Ahwoi , assured the gathering to maintain Mahama to guarantee them a new district in his next administration.

In his address, the Chief of Nchiraa Odeneho Sankofana Tabiri Yaw called on the government to transform the Nchiraa water falls to promote economic activities in the area.
Source: Samuel Ablordeppey