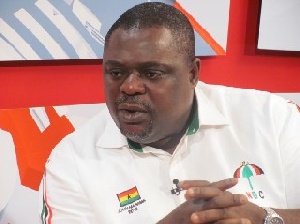 The former Deputy Minister of Food and Agriculture, William Quaittoo, was silly in referring to northerners as "liars" and "difficult" people to deal with, Koku Anyidoho, Deputy General Secretary of the National Democratic Congress (NDC), has said.
According to him, although Mr Quaittoo has resigned from his post after making those comments, he deserves no praise because his comments were senseless.

The Akim Oda MP received a lot of flak from Ghanaians for uttering those words against the people of the north.

But he has retracted his comments and rendered an apology. He subsequently resigned following pressure from the Minority as well as several northern groups and northerners, including presidential staffer, Napaga Tia Sulemana.
Speaking on this matter in an interview with Class 91.3FM 's Valentina Ofori-Afriyei on the 505 programme on Wednesday, August 30, Mr Anyidoho said: "All we, as NDC are saying is that the Deputy Minister was reckless and to an extent, silly in his comments. If he has resigned he gets no praise from the NDC from resigning from government.

"He should go back home and realise that it is not easy to be a government official. When you have been appointed to that high office yours is to be responsible, yours is to be humble and yours is to serve.

"If you are not humble, if you do not serve in unity and you made silly statements which have caused him his job, he should go home with no praise from the NDC."