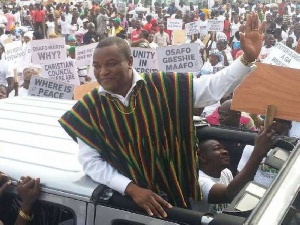 The founder and leader of the All People's Congress (APC) Hassan Ayariga has given indications that the 'winner takes all' system being practiced in Ghana is a breeding ground for corruption adding that that style of governance must change.
According to Hassan Ayariga who is making a second attempt at becoming president of Ghana, he would call for major changes to the constitution which "gives too much power to the president."

Speaking on TV3's political program THE PLATFORM, Mr. Ayariga said "we have what you call winner takes it all political syndrome in this country and this gives the president so much power appoint and to fire [sack].

"He appoints all heads of institutions in this country and that breeds corruption because the president is not being checked because all the people that are in the various institutions are being put in by the president. "So lots of corruption goes on in all the sectors… After all government in power has all the authority to do whatever it wants so what we are talking about is amending the constitution to make sure that there is separation of economic power from political power."
There have been countless debates about the about how much power the executive arm of government wields and some stakeholders, civil society organisations and political watchers have called for a constitutional review to reduce the amount of power handed to the president by the constitution.

THE PLATFORM is a special program designed for flagbearers of the various political parties to address the nation by outlining their policies on how they will manage the affairs of the country if given the mandate by Ghanaians. It airs every Saturday at 4pm on TV3.