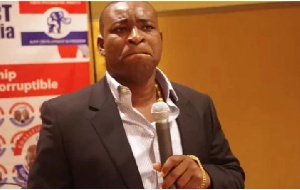 The National Democratic Congress (NDC) in Ashanti, has despised claims purported to have been made by Mr. Bernard Antwi Boasiako, the Ashanti Regional Chairman of the New Patriotic Party (NPP) that former President John Mahama should not enter the region or any of its senior high schools for his political campaign.
A statement signed by Mr. Njourkone and copied to the Ghana News Agency (GNA) in Kumasi, responding to the statement now trending on the social said Mr. Antwi Boasiako, popularly known as Chairman "Wontumi", "has no right to stop the ex-president from entering any school in the Ashanti Region".

The statement said the NDC had taken a serious view of what it described as "disgusting vile threat", adding that "it was an attack on our democracy and also undermined the Country's democracy-this must be condemned by all.

It called on the security agencies to intensify measures necessary to guarantee the free and legitimate movement of every person in the country including former President Mahama.

The statement said although ex-President Mahama has not visited or given the indication to visit any Senior High School during his campaign tour in the Region, Chairman Wontumi can never stop him from doing so if the president wants to.

"The welfare of our SHS students are the concern of us all, no one can keep some SHS students in horrendous conditions and prevent major stakeholders from visiting them," the statement said.
The statement continued that "the NDC as a political party will never be intimidated by such threats".

"Let every Ghanaian know that much as we respect the capability of the state security to contain him, if there is any failure by the relevant state authority to prevent him from doing anything untoward, we will meet him with equal measure."

Mr. Antwi Boasiako is reported to have said in media reports that "as a former President or candidate who is campaigning, you will hear him saying he will tour schools to campaign and dares the government to arrest him.

"…we will stop him. I dare Mahama to come to any school in the Ashanti Region, I will stop him and I will cease him from entering him from entering the Ashanti Region."