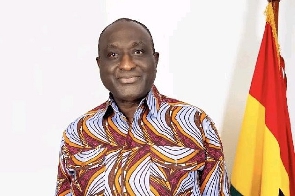 Tue, 6 Jun 2023 Source: GNA
Victor Ofosu Boamah, a leading member of the 'Youth Caucus for Alan', says John Alan Kyerematen, remains the best candidate if the New Patriotic Party (NPP) could retain political power in the Election of 2024.
'Youth Caucus for Alan' is an emerging political group within the NPP, campaigning for Kyerematen, the former Trade and Industry Minister and now a presidential aspirant of the Party.

In an interview with the Ghana News Agency (GNA) in Sunyani, Boamah described Kyerematen as the "ideal choice for the NPP to maintain political power in 2024" and implored the delegates to vote for him in the Party's impending presidential primaries to elect its flagbearer for the Election 2024.

Probing more into the Caucus's endorsement of Kyerematen, Boamah said "I think Kyerematen's vision, integrity, and his exceptional gentility distinguishes him from the other aspirants".

As the former Trade and Industry Minister, Boamah, Kyerematen spearheaded several successful initiatives of the government to spur trade and investments in the country.

"We should not forget that through Kyerematen, the One District-One-Factory Programme has fostered industrialization and job-creation by establishing at least one factory in each of Ghana's 260 districts/municipalities, focusing on agro-processing, manufacturing, and value-added industries".
Kyerematen also master-minded the National Export Strategy which sought to enhance Ghana's export sector by improving competitiveness, diversifying exports, and providing support services to businesses, he said.

The implementation of this strategy contributed to Ghana's record-high export figures, Boamah stated, saying Kyerematen played an instrumental role in establishing the Ghana Commodity Exchange (GCX) in 2018.

The GCX is an electronic platform that facilitates transparent and efficient trade of agricultural commodities, benefiting small-scale farmers and reducing post-harvest losses.

Kyerematen was also the brain behind the Industrial Parks and Special Economic Zones, which had pushed the development of several industrial parks and special economic zones (SEZs) in the country.

These SEZs attracted foreign investment through incentives such as tax breaks, customs exemptions, and streamlined business registration processes.
He said these and several policies and programmes initiated by Kyerematen had significantly contributed to the nation's economic growth and job creation and improved market access for small-scale farmers, Boamah stated.

Boamah acknowledged all the Party's presidential aspirants were qualified and had the capacity and proven track records to lead the NPP, but, added "Alan is the best bet for the NPP because he is very appealing to the Ghanaian electorate."

"No political propaganda, pettiness, and baseless gimmicks can discourage and tarnish the hard-won reputation of Kyerematen.

In fact, nothing can erode the strong connections Kyerematen has with the party grassroots, so it is better his opponents, and their supporters stop the baseless propaganda aiming to make Kyerematen unpopular in the eyes of the NPP delegates," Boamah stated.
Source: GNA