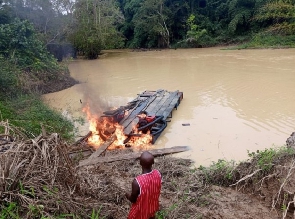 Fifteen Changfan machines which were being used for illegal mining on River Pra near "Ensese Anglo village" has been burnt by the Anti-galamsey Taskforce in the Akyemansa District of the Eastern Region.
This is after the DCE for Akyemansa, Paul Asamoah and the Taskforce stormed the illegal mining site.

The activities of the illegal miners have polluted the Pra River which serves as drinking water for surrounding areas, leaving the residents unable to use the water.

The DCE, Paul Asamoah in an interview called for government intervention to fight the illegal mining in the area.
He said the District Assembly does not have doesn't have the necessary funds to fight galamsey which is causing huge distraction to farmlands of the people in the area, hence the need for government support.

Hon. Paul Asamoah added that it is very disheartening to see more foreigners involved in galamsey activities and the only way to stop them is the government resourcing the military especially the Airforce to use their aircraft to fly over the river bodies to drive away all the galamseyers.