Thu, 31 May 2018 Source: Muniru Ibrahim
Ninety women from various women groups within the Southern part of the Nadowli-Kaleo District of the Upper West Region have undergone a day training workshop at the St. Basilides Vocational and Technical School on basic financial literacy with a call on them to cultivate the habit of spending loans on needs and not wants.
The workshop, organized by the Gender Desk Department of the Nadowli-Kaleo District Assembly formed part of the department's goals of educating women adequately towards providing them with small loans and building their capacities of managing businesses.

The women, who were selected from communities within the Kaleo area, are expected to also train their colleagues numbering about 1,000 within the district.

They were schooled on basic record keeping for businesses, managing credit and collections, Identifying sources of income, usage of credit facilities, determining profit and loss.

The facilitators, WA Credit Union, used images to illustrate the various types of need, while allowing interaction and group discussions among the women for better understanding of the whole need to be financially adequate.

In a speech, the District Chief Executive Katherine T. Lankono, stated that the success of entrepreneurs was largely linked to their knowledge of financial management.


Madam Katherine said the NPP government aim is to bring business closer to the people and provide them the facilities that will make them comfortable to do business in the country.

She mentioned the introduction of free senior high school as one way of reducing burden on parents in taking care of their children in school.

She said, "women who are into planting for food and jobs will have much knowledge of managing the yield better at the end of the farming period and this will enable them repay their debt owe government''.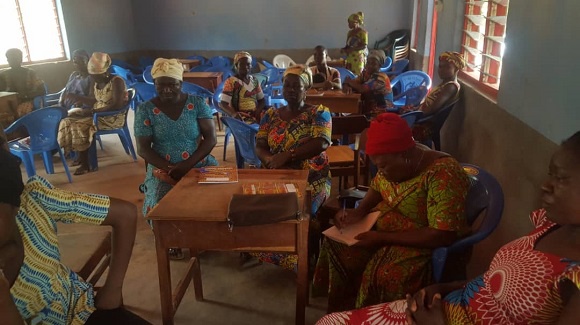 The DCE was hopeful of getting the women loans from the Wa Credit Union at the end of the training to enable them start their own small businesses.

She said the northern part of the district will have their share of the training before the end of June, 2018.

The DCE also called on participants to pay much more attention to the training because it would empower them.

The participants were excited to be part of the financial literacy workshop as according to them, will go a long way to help them do their businesses better.


Source: Muniru Ibrahim