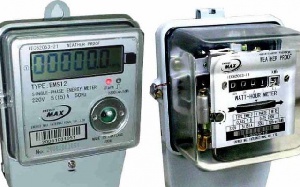 Sat, 15 Apr 2023 Source: GNA
The Electricity Company of Ghana (ECG) loses an estimated GH¢ 2 million monthly within the Accra East Region operational area due to sub-standard meters.
The estimated 20, 000 inferior meters in circulation in the region had been identified to have come from neighbouring Togo and were totally different from meters coming from the Ministry of Energy and ECG.

Mr Jonathan Asante, Regional Commercial Manager, Accra East, said: "Within our region, we estimated about 20,000 of such meters. If each household is consuming about 100 units, that's 2000 kilowatt hour and even if you are selling a unit of the power GH¢1, you are looking at about GH¢2 million each month."

He said this when a team made up of personnel from the Accra East Regional Office and the Dodowa District Office disconnected a community at Oyarifa Anointing Down for illegal electrical distribution. 

The seemingly new community which had not been mapped by ECG, had some customers using the sub-standard meters whiles others tapped into the national grid without any meters authorised by ECG.

Mr Asante said the manufacturer of the meter tried to imitate Ghana's Self Help Electrification Project (SHEP) meter, thus, labelling them as property of Ministry of Power. 
"These meters come here without the knowledge of ECG, Energy Commission is not aware and so if the standard of cable used is low then it can create a fire outbreak. We seized over 40 pieces of such meter recently from the community and also handed over some suspected dealers to be the police," he said. 

"Some people are facing prosecution. We have intercepted some of these meters our region and even in Central, Ashanti and Volta Regions but as typical of Ghanaians they are covering their sources," the Manager said.  

Mr Asante said the strategy was to confiscate the meters, know their consumption, debit the customer's new accounts and make them pay all they had consumed, including penalty before they get any ECG new meters.

Some affected customers in an interview with the Ghana News Agency (GNA), said, they had the inferior meters through their elected Assembly Members who charged about GH¢500 for the cost and installation.

Mr Peter Cudjoe Geh, Assembly Member for Ayi-Mensah Kweiman Electoral Area, confirmed he assisted some community members to acquire the meters though he did not know they were sub-standard. 
"I will be available to assist in any ECG investigations on the meters. The community members came with a need of a meter and there is a colleague who gets the meters somewhere," he said.

Responding to when Assembly Members had become ECG officials distributing meters, Mr Geh said that he had been one of their services rendered to their electorates, adding that a former MP distributed meters eight years ago.

The Accra East Region, as part of the nationwide revenue mobilisation exercise, had generated more than GH¢104.3 million since the start of the exercise on March 20 within eight districts.

The districts are Makola, Legon, Akuapim Mampong, Roman Ridge, Teshie, Kwabenya, Dodowa and Adenta.
Source: GNA