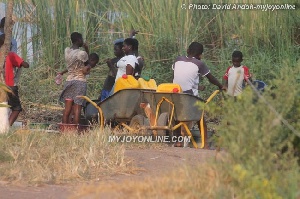 Tue, 25 Oct 2016 Source: Bright Dzakah
Contrary to the claim by government that it has provided potable water for residents of Adenta and its environs, a Member of Parliament for Asene/Akroso/Manso Yaw Owusu Boateng has refuted this assertion, saying government should stop throwing dust on the eyes of the electorates.
The legislator who said he resides in one of the suburbs in the Adentan Municipality argued that, ever since he moved to the Adentan municipality, water has remained a scarce resource.

"I am a resident of Oyarifa in an area called Asiedu Nketia around Gravel Pit and what I rely on is bore hole, that is what everyone uses there, the NDC General Secretary has a house there, call him and ask him if there is potable water, government is just doing politics with this water problem, they did not solve anything, the President and the NDC are not telling the truth" Yaw Owusu Boateng asserted.

Government on several occasions promised to end water problems in the Adentan Municipality as well as Greater Accra as at large.

According to Dr. Agyemang-Mensah Minister of Water Resources Works and Housing, in 2014, said government was able to redeem its campaign promise by providing affordable and safe water to the people of Adenta, Ashaley Botwe and its environs to address the perennial water challenges in the areas.
But Member of Parliament for Asene/Akroso/Manso Yaw Owusu Boateng said that those promises were not just rhetoric but a rehash of 'lies' been forced on Ghanaians by the John Dramani Mahama government and the NDC. Adding that if it is true the government has solved water problems in Adentan and the surrounding localities, "why are people still in 21st century drinking water from dug out Wells and Bore Holes in Accra" he queried.

"People are complaining, they are faced with real and life threatening situation and instead of solving their problem, you are doing politics with it. I am still insisting that Oyarifa, Adentan and its surroundings have no potable water, we all rely on tankers and sachet water. The president should fix the problems, that is his mandate, not today this and tomorrow that"

He said the President and his appointees can succeed in painting glamorous pictures of their non-performance and problems facing Ghanaians but on December 7th, the real verdict will be out.
Source: Bright Dzakah