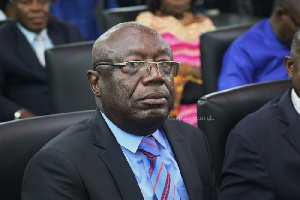 The Adum-Banso Collaborative Development Action Network (ABDAN) has applauded the Western Regional Minister, Dr. Kwaku Afriyie, for responding to its petition and agreeing to meet the chiefs and people of Adum-Banso on their demands for the extension of tarred road to the town, and the Mpohor district's change of name.
A communiqué issued today by ABDAN said the group had received a letter from the Regional Minister through David Gorman Hammond, Western Region Coordinating Director, which requested that the District Chief Executive for Mpohor, Ignatius Assah Mensah, should work with all stakeholders to set a convenient date for a meeting.

The Western region coordinating director has, therefore, informed Michael Kegyah and Paul Hayford, ABDAN chairman and secretary, the district chief executive, Mpohor district assembly, Alex Kofi Agyekum, MP for Mpohor constituency, Nana Kwandoh Brempong III, Adum- Bansohene and Benkumhene of Wassa Fiase Traditional Council, Isaac Minyimsah, assembly member, Adum-Banso Upper, Newton Appiah, assembly member, Adum-Banso Lower, and Kwasi Kwakyi Andoh, Adum-Banso unit committee chairman, to attend the meeting at the Regional Minister's office.

ABDAN says it appreciates the regional minister's initiative, calling it symbolic, but excellent approach to changing hostile attitudes to moderating a process that could resolve an issue through the exchange of ideas for infrastructural equity as legitimately demanded by the chiefs and people of Adum-Banso.

It would be recalled that on 28 June 2018, ABDAN presented a petition to the Office of the President, Ministries of Roads and Highways, Local Government and Rural Development, Mpohor District Chief Executive, and the Western regional minister, but the group did not receive a favourable response. On 23 July 2018, the group issued a second petition, which as it were, was to amplify the intention of communities within a catchment area in the Mpohor district to begin series of social protests to back their appeal for the extension of the Apowa-Kejebil road to Adum-Banso, and change of name of the district to Mpohor Wassa Fiase Central.
Consequently, at a town hall meeting held in Adum-Banso, Alex Kofi Agyekum, MP for Mpohor constituency, was said to have expressed his dissatisfaction about such petitions, their irrelevance, and why the chiefs in the area could not discuss their issues with President Akufo-Addo when he visited the district, but allowed only the paramount chief of Mpohor to deliver a speech that concentrated on the fight against galamsey. The emotionally charged NPP MP was also said to have chastised the people for blaming government on why their grievances have not been addressed. A question and answer session that was to collate views could not yield any positive result due to the MP's use of what the people described as unprintable words.

"We welcome the Western regional minister's decision to meet us as a civil approach to problem-solving, reconciliation through moderate mediation, and proper management of people who are legitimately asking for the construction of a road to Adum-Banso, which has not been tarred before since 1811", ABDAN added.

The communiqué stated, "We wish to commend the western regional minister for this initiative, and we are grateful for this opportunity to dialogue in a respectful way devoid of anger towards the chiefs and people of Adum-Banso".