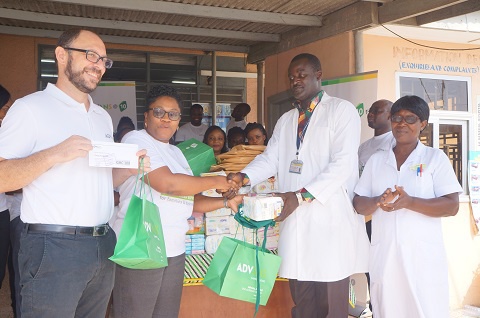 Thu, 22 Nov 2018 Source: Advans Ghana
As a responsible financial services provider Advans Savings and Loans is committed to having a positive impact and building awareness on social and environmental issues through its everyday operations and through actions in the community.
The company therefore ensured that corporate social responsibility initiatives were at the heart of its 10-year anniversary celebrations with several actions taking place in November.

In Accra, the financial institution focused on the theme of public health with initiatives including donating to the maternity blocks of the Ga South Municipal Hospital and the La General Hospital and opening savings accounts free of charge for all new babies with seed money of GHC100 each.

The company also gave free medical screening to its clients and the general public at Accra Newtown on 16 November with more than 300 people benefitting from the screening.

Speaking at the Ga South Municipal Hospital the Chief Operating Officer of the company Mrs. Barbara Odei emphasized that the "GA South Municipal Hospital and the La General Hospital were chosen by Advans because these two hospitals serve virtually all communities in Accra. The items donated will go a long way to assist mothers who come to deliver at the hospitals".

The Medical Superintendent of the La General Hospital, Dr. Ebenezer Oduro-Mensah thanked the company on behalf of the hospital and the nursing mothers who were beneficiaries of the items donated.
He advised mothers to build up on the seed money given to their children by making regular savings into the accounts opened to ensure their future.

For his part, the Chief of Sales of the Advans Group, Mr. Olivier Bailly-Béchet who was present at the donation to the La General Hospital said "Advans Ghana's 2018 community initiatives are in line with the core values of the Advans Group: we are an international network of strong and responsible financial institutions that believe in accelerating financial inclusion and giving back to local communities".

Other social and environmental initiatives carried out across the country byAdvans in 2018 included similar health focused actions such as a donation to Ho Lepers village, free health screenings at Koforidua and Kumasi, and environmental actions like the donation of waste containers and clean up exercisesin Sunyani and Tamale.

Next year, Advans will embark on tree planting exercise in selected regions in Ghana in collaboration with the Forestry Commission to contribute to the global afforestation campaign supported by the government of Ghana.

In carrying out these actions for the community, and in the work that it does every day to bring financial services to small businesses and other underserved populations, Advans confirms its commitment to contributing to lasting economic and social development in Ghana.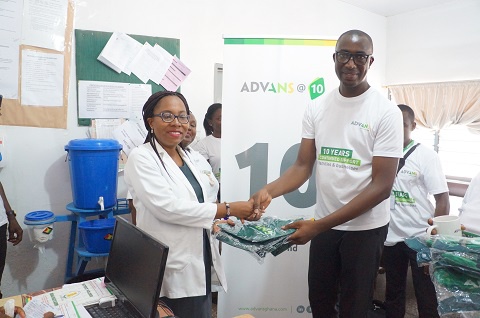 About Advans Savings and Loans

Advans Ghana Savings and Loans Limited was licensed by the central bank of Ghana in October 2008. Advans Savings and Loans's shareholders are Advans SA, IFC, Kfw and Societe General, Ghana.

Advans Ghana started its operations in Accra on in October 2008, and has since opened nineteen branches in seven regions in Ghana.

As a registered savings and loans, Advans Savings and Loans provides micro and SME loans and offer several current, savings and investment accounts for both individuals and MSMEs.
Advans Savings and Loans aims to become the leading MSME financial service provider and the preferred financial partner for MSMEs in Ghana.

Today Advans Savings and Loans serves over 55,000 clients from 19 branches across the country.

The company has disbursed over 125,000 loans since opening its doors in 2008, with over 600 million in GHS disbursed

The Advans Group in brief

Advans' vision is to build a model group of microfinance institutions (MFIs) in in Africa, the Middle–East and Asia.
Its mission is to respond to the need for financial services of small businesses and other populations who have ill-adapted, limited or no access to formal financial services.

The Advans Group currently spans nine countries: Cambodia, Cameroon, Ghana, the Democratic Republic of Congo, Côte d'Ivoire, Pakistan, Nigeria, Tunisia and Myanmar.

As at end September 2018 the group served more than 860,000 clients and employed 6,700 staff, with a Gross Loan Portfolio of €855 million and a total of €470 million in savings deposits.

Headquartered in Luxembourg with its support services in Paris, the group's shareholders are EIB, KfW, FMO, CDC Group plc, FISEA (AFD Group), IFC and Advans Invest.

For more information, please visit www.advansgroup.com.
Source: Advans Ghana