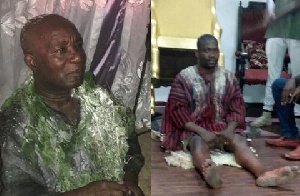 There is uneasy calm at Akropong Akuapem in the Eastern Region following a reported installation and counter installation of a paramount chief for the traditional area.
As a result, there is currently a heavy police presence at Akropong to forestall any possible bloodshed.

Two factions have emerged from the Sakyebea Royal Family and each is claiming to be the rightful gate to select the next Okuapemhene to succeed the late Oseadeyo Addo Dankwah III, who ruled for 41 years before his demise.

Currently, Odehyie Kwasi Akuffo, a 63-year-old retired journalist and businessman and one Nana Kesse, are being processed simultaneously to be installed the paramount chief.

Odehyie Akuffo is being presented by Okuapemhemaa (queen mother) Nana Afua Nketia Obuo II, while the Baamuhene, Nana Afari Bampoe, is backing Nana Kesse, believed to be in his mid-30s and once domiciled in the United States.

According to Akuapem customs and traditions, before one is enstooled a paramount chief of the traditional area, the person is supposed to go through a four-stage process of nomination, selection, enstoolment and finally, the installation; and it is the commencement of the process that is brewing trouble in the town.

Matters came to a head when the selection process was started in the palace of Nana Kwasi Omenako II, who is the head of the Akuapem Asona royal family (Asonahene) on Tuesday.
The Okuapemhemaa introduced Kwasi Akuffo to the Asonahene as the proposed successor to the late Omanhene and the nominee was sent to 'Mogyawere,' the palace of the Adumhene, Adu Panyin II, for confinement for about 40 days for traditional tutelage.

In the process, the Baamuhene, in the company of Nana Osim Kwatia, chief of Amanokrom and Akuapem Gyaasehene Nana Yaw Afari Bampoe, brought Kwadwo Kesse, slaughtered sheep and spilled the blood on his feet to signify the selection of another Akuapemhene.

They allegedly took over the palace and installed Kwadwo Kesse to occupy the Omanahene's Hall of the palace as a new paramount chief of the Akuapem Traditional Area.

The police then stepped in as things were getting nasty, picked up the Baamuhene, who has since been granted bail, and asked the other chiefs to vacate the palace.

Later, the Municipal Chief Executive of Akuapem North, Dennis Agyapong, told Citi FM in Accra that the residents were in safe hands.

"There has been no casualty; there has been no quarrel; there has been no fight. Everything has been peaceful as it should be. From the outset, we have assured the people that their safety and security is paramount, so, we just put in place measures to ensure that their property and lives are protected," he said.