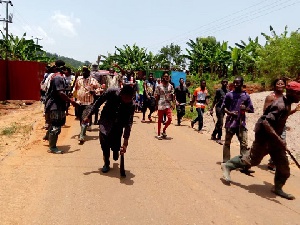 Dozens of Armed Police Personnel have stormed Huhunya a farming community in the Yilo Krobo Municipality of the Eastern Region to avert what would have been bloody clashes between angry farmers and herders in the area.
The armed Police Personnel deployed with reinforcement from the New Juaben South Municipal Police Command and the Regional Police headquarters stormed the community to maintain law and order as the machete and club-wielding farmers invaded the bush to fight the herdsmen ostensibly to drive them away from the area.

According to the angry residents, the herdsmen brought cattle numbering over 300 to the community without their permission.

They alleged that the presence of the cattle for the past three weeks has led to the destruction of their crops, pollution of water bodies and insecurity as they are threatened whenever they complain hence the action to evict the herders and their cattle from the area.
The eviction action started since Tuesday as the farmers invaded the bush chasing the herders and their cattle. The situation nearly turned bloody Thursday when the angry farmers accused the herders of reluctance to leave the area, therefore, decided to use brute force to drive them away, however, the herders also invited some macho men from Koforidua to protect them.

The timely intervention of the armed Police Personnel led by the Municipal Police Commander Chief Superintendent Justice Anthony Aduhene -Benieh and his station officer Chief Inspector Ebenezer Sakyi restored calm after hours of operation in the bush.

Meanwhile, the displaced herders were assisted by the Police to evacuate the area to an unknown destination with their cattle.