Regional News Sat, 2 Jun 2018
The Assembly Member of Half Assini electoral area in the Jomoro Municipality of the Western Region, Cyrus Wilson has advised candidates who would be taking their Basic Education Certificate Examination (BECE) in June, 2018 to pass well for easy admission into Senior High Schools in Ghana.
Final year pupils in all private and public Junior High Schools across the country are preparing to write their BECE next week Monday, June 4, 2018.

A total of 509,824 final year Junior High School (JHS) students are expected to sit for the BECE this year.

The figure represents an increase of 41,771 over last year's figure of 468,053 candidates.

The 2018 candidates are from 16,060 public and private basic schools and are made up of 263,295 males and 246,529 females.

They will write the examination at 1,772 centres across the country.
Mr. Wilson disclosed this at a ceremony where he donated 1,000 pieces of mathematical sets and pens to support candidates who are preparing to write their BECE at Half Assini in the Jomoro Municipality.

Even though the number candidates writing the BECE exams are less than thousand, the Assembly Member donated 1,000 mathematical sets so that the rest can be used for emergency.

Six schools in his electoral area both public and private benefited from this and they included; Methodist JHS, Roman Catholic JHS, Nana Ayebia Amhire M/A JHS, Nzemamanle Complex, Christ The King Proprietary School and Christian Academy School.

Speaking at presentation held at Half Assini Methodist JHS, Hon. Cyrus Wilson said, the support shows his commitment towards ensuring that students in his electoral area are supported at every stage of the educational ladder to realize their potentials.

He, therefore, admonished the candidates to refrain from examination malpractices and inspired them to learn harder since that is the only way to achieve success.
He disclosed that this gesture is not going to be a nine day wonder but would be done every year.

He, therefore, advised them to take their studies seriously since they are the future leaders of the nation.

"Examination malpractices are not good and a candidate that will be caught in the act of any examination malpractices would be dealt with accordingly," he cautioned.

The Assembly Member also used the opportunity to caution teachers who have developed the habit of engaging the candidates in examination malpractices to desist from it to avoid any form of embarrassment.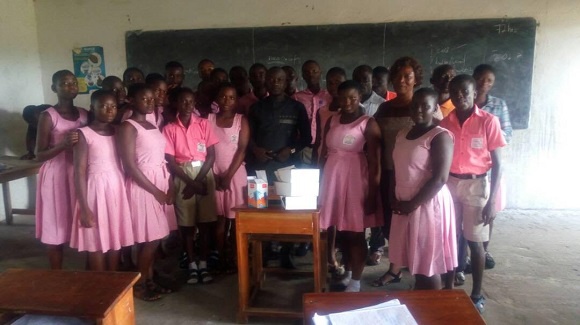 Mr. Wilson said the most critical moment of every student is at the BECE level and that it is an onus on all stakeholders to ensure they do their part for the children to pass.

He revealed, he has rolled out other programs for students especially those at the BECE level. He said his focus as an MP will be on education and health issues.

Receiving the items on behalf of the schools, the headmaster of Half Assini Methodist Junior High School, Mr. Patrick Buah expressed appreciation to the Assembly Member for the kind gesture and promised to instil the teachers to do their best to ensuring the candidates come out with flying colours.

Moreover, some of the candidates also expressed their appreciation towards the Assembly Member and promised to learn hard in order to achieve their aim.

The Half Assini Circuit Supervisor, Mr Benjamin Elleah said the donation by the Assembly Member came at the right time because it will motivate the children who are in their critical moment of their education.
Source: Daniel Kaku
Source: Daniel Kaku