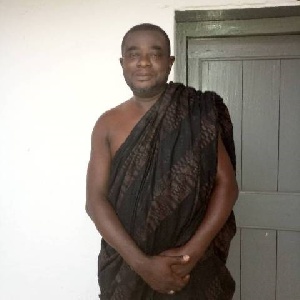 Nana Kwadwo Safo, the incoming Bamehene of Aduamoa in the Kwahu Traditional area has expressed worry at the alarming rate at which children in the community abandon school hours for farm work.
Nana Safo said he would enforce laws that will bind the inhabitants to send their wards to school when he is officially enstooled next month.

Speaking in an interview with the Ghana News Agency (GNA), at Aduamoa, the Bamehene said he would ensure the promotion of effective teaching and learning in schools in the area.

He said there are plans to organise a Home Coming event during the Easter festivities to bring all the indigenes from across the country and abroad to the festival to enable them to help in the development of the community.

Nana Safo urged traditional leaders to make laws that would ensure that lands bought by investors were developed within a short period to speed up development.
He said Aduamoa is a major producer of tiger nuts in the district, and he would ensure that with the introduction of the 'One district, One factory' policy, the Kwahu East District could add value to the nuts to raise the standard of living of the farmers.

Nana Safo appealed to the Kwahu East District Assembly to rehabilitate the road linking Obo through Aduamoa to Nkwatia to promote economic activities of the people in the area.

He pleaded with the inhabitants to assist and support him in executing development projects in the community to lift Kwahu Aduamoa to a befitting standard.