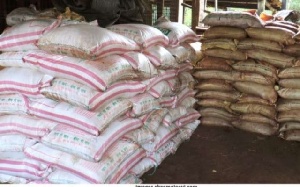 The District Chief Executive (DCE) for Bongo, Peter Ayimbisa, has bemoaned the release of a truck that was impounded by police in the area for attempting to smuggle fertilisers into neighbouring Burkina Faso last month.
Mr Ayimbisa said the decision by the state attorney to set the truck free is a setback in the fight against the smuggling of fertilisers meant for government's flagship programme – Planting for Food and Jobs.

The truck which was loaded from Bolgatanga was originally billed to send the fertilisers to Kunlungungu in the Pusiga district but strangely found its way into Bongo, heading into Burkina Faso.

It was impounded by the Bongo police and its owner processed for court, but according to the DCE, the State Attorney later advised the police to release the truck and escort it to its original destination.

Speaking to Class news' regional correspondent, William Jalulah, Mr Ayimbisa said the action serves as an incentive for other unscrupulous people to smuggle fertilisers out of the country.
He said: "An articulated truck was arrested about a month ago for trying to move out of this district with quantities of fertiliser and the police on duty were able to [effect an] arrest but unfortunately, the truck has been released to go back to where it was assigned to.

"According to the police officer, they had to present the docket to the state attorney for advice and the state attorney, according to them, advised that the vehicle and its content be released with police escort to where it was assigned to and this was done last week.

"I'm not happy about this but who am I to challenge? I'm not happy because it will encourage others to also want to smuggle. It doesn't serve as deterrent to people who will want to smuggle in future. The government of Ghana has spent so much money to subsidise fertiliser for the farmers of this country. These are unscrupulous people trying to smuggle, trying to derail the efforts of government, and I think it's not nice."