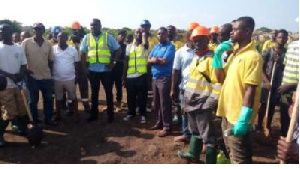 The Tema Metropolitan Chief Executive (MCE) has warned squatters of Community Five Ramsar area against their continual encroachment of the Sakumo Lagoon in the face of persistent flooding of the area.
Mr. Felix Mensah Nii Annang-La cautioned them on Saturday during a cleanup campaign that took him to all eleven electoral areas within the Tema West Constituency as part of his agenda to rid the Metropolis of filth and restore it to its original state.

"Everybody should move away from the lagoon. The whole place was flooded the last time it rained and we can't continue like this. You are our brothers and sisters and we won't wait for the worst to happen to you," he said.

Speaking to the Ghana News Agency, he said the Ramsar Site Committee of the Tema Metropolitan Assembly (TMA) had decided to remove them from the area but said "we are going gradual and doing some education through Town Hall meetings to let them understand the need to move."

He observed that as part of his Tema Restoration Agenda, he was going to make sure that such warnings were heeded to and that the next rains would not meet them still in the area.

"You see, we have put before us the restoration agenda, and the way we are making noise about it everybody is waiting to see what would come out of it. And as we are saying, we are not leaving any stone unturned; we will make sure everything captured in the restoration agenda is achieved," he said.

Some residents of the squatter community agreed that the warning was in order, but observed that they did not have anywhere to go.
They said the solution to the problem was for the MCE to dreg the drains by the lagoon so it could contain the rains.

Others said the passage created for the lagoon to enter the sea was small, and that was why the lagoon could flood up to where they were squatting.

They pleaded with the MCE to open up the passage so the water could drain away to make the land conducive for settlement.

In response to their plea in an interview with the Ghana News Agency (GNA), the MCE observed that the real solution to the problem was for squatters to go back to the rural areas where they came from and take advantage of President Nana Addo Danquah Akufo-Addo's planting for food and jobs agenda.

He added that, "We know these people migrated from the villages because there are no jobs there, and that nobody will leave his or her villages to live in such conditions if they had something meaningful doing with their lives there."