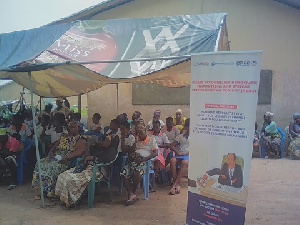 Two anti-corruption institutions operating in the Upper East Region have extended their public education to communities in the Bawku Area to sensitise the people on how corruption is manifested and its effects on society.
"The corruption canker is increasingly disturbing and the anti-corruption institutions and campaigners have adopted series of methodologies to fight the phenomenon, hence, the need to target community members such as chiefs, queen mothers, Persons with Disabilities, youth groups and market women to educate them on the phenomenon.

The Ghana Integrity Initiative and the Ghana Anti-Corruption Coalition, with funding from the United States International Development, organised the forum at Misiga near Bawku, under the Accountable Democratic Institutions and System Strengthening Project (ADISS), to sensitise the community members on the various stages of corruption, its effects as well as its prevention.

Mr Jonathan Dery, the Officer in charge of the ADISS Project in the Upper East Region, noted that the forum was aimed at creating awareness on the manifestation and effects of corruption and the need to report it for redress.

He said it was also to renew and build upon on-going efforts and increase the capacity of Civil Society Organisations (CSOs) to motivate citizens to push policy makers and institutions into targeted and focused actions to reduce corruption in Ghana.

Mr Dery said the ADISS Project would increase advocacy by civil society for legislative change in relation to accountability, documentation and exposure of corruption through civil society reposting mechanisms.
He said it was to let the participants understand that when resources were not distributed equitably there was the likelihood that corruption could take place and so the need to hold the duty bearer accountable.

He pointed out that corruption retarded development including improvement in education, health and social infrastructure.

The participants, who shared their opinion with the Ghana News Agency, said they understood corruption as an element that could cause conflicts, promote poverty and bring about devastating circumstances in society and that they were prepared to partner the enforcement agencies to fight the menace.

Mr George Abugri, the Anti-Corruption Campaigner for the Misiga Community, urged stakeholders at the helm of affairs in Central Government through to the unit committee level of administration not to tolerate corruption since it was an abuse of office and could retard development.

He said corruption led to producing shoddy work and called on the citizenry to report such cases to the Advocacy and Legal Advice Center, the Commission on Human Rights and Administrative Justice and the Ghana Police Service among others for redress.