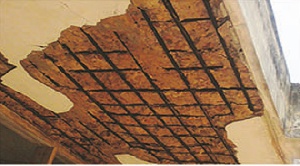 Saltpond Municipal Hospital in the Central Region is in dire need of urgent renovation to save it from the devastating effects of the sea breeze due to its nearness to the beach, Today can report
The hospital which was built in 1920 to originally serve marine officers and soldiers of the colonial government now caters for the people of the Mfantseman Municipality and beyond.

A visit to the health facility by Today revealed the bad state of the

hospital as visible cracks were seen all over the buildings with portions of the roof falling off, exposing the iron rods.

Some patients who spoke to Today on conditions of anonymity intimated that they could not guarantee their safety "because in their bid to seek medical care, the

building can cave in due to the cracks which are seen everywhere".

The Medical Superintendent of the hospital, Dr Derrick Acheampong Bonsu on his part underscored the need for regular maintenance to be carried out on the structures and equipment at the facility.
According to him, the sea breeze effect is very disturbing hence the need for constant renovation to enable them discharge their medical duties effectively.

Dr. Acheampong Bonsu also reiterated the need for the expansion of the hospital's emergency ward which has only seven beds.

"It cannot even be properly called an emergency ward because it is very small. It is supposed to be for accidents and emergency and also have its own separate laboratory, its own mini theatre, an area for medical cases and an area for surgical cases. It also needs a scrub area and a dedicated area for other minor surgeries but all these things do not exist," he explained.

"All accidents and emergency cases from Yamoransa to Apam junction to Abura Dunkwa are brought in here but honestly speaking what we have here is woefully inadequate and cannot be called an emergency ward but this is what we have so we are managing it," he lamented.

The Medical Superintendent also mentioned accommodation for staff, an ambulance and staff bus as some of the pressing needs of the hospital.

He therefore appealed to government and the Member of Parliament (MP) for the area, Mr Ekow Hayford to come to their aid.