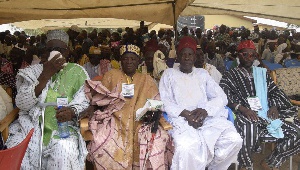 The overlord of the Bawku traditional area Zug Ran Asigri Abugrago Azoka II, has called on the government and the security agencies in-charge of arbitration in the Bawku conflict to as a matter of urgency openly declare the conflict as ended.
He believes declaring the conflict as ended will allow residents in the area to openly associate with one another in peace. According to him "the current peace appears to be holding".

This was contained in a speech read on his behalf at the 14th annual celebration of the Zekula festival in Kulungungu in the Pusiga district of the Upper East region under the theme: Sustaining our cultural heritage for peace and development.

The Zekula festival which literally translates as 'Togetherness Festival' is an annual homecoming for the entire Bissa speaking people both home and abroad and it is aimed at promoting peace and unity among Bissas.

The overlord congratulated the BISSA community for promoting peace and harmony in the traditional area.

In attendance was the Minister for Information, Dr Mustapha Abdul-Hamid who is son of the region and a Bissa. He assured the people of government's support in all sectors of the economy especially in education and urged parents to invest heavily in the education of their children.
He added that the President Nana Addo Dankwa Akufo-Addo is interested in peacebuilding and has through him [Information Minister] sent his congratulatory message to the people of Bawku for maintaining peace in the area.

National Chairman of the Bissa Association, Seidu Ayuuba, called for infrastructural development in the area. He specifically called on government to make the site where Kwame Nkrumah was bombed in Kulungugu in 1963 more attractive to tourists.

As side attraction, different cultural troops exhibited their talents from the spirit of oneness and the promotion of their cultural heritage with passion. These included horse dancing moves controlled by horse riders.

The Bissa people are known for cultivating large quantities of groundnuts which forms about 70% of Ghana's export of groundnuts. In order to show their love for groundnut production, the groundnuts were used to make necklaces, waist beads, bracelets, headgears, shoulder beads and other ornaments for all ages during the festival.