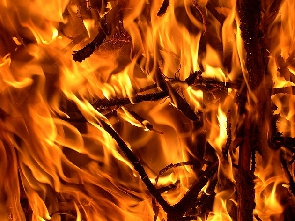 Pandemonium broke out at Maame Krobo in the Kwahu Afram Plains South District on Friday, February 3, 2023, following the alleged shooting of a 54-year-old farmer by the police.
Kasapafmonline.com reported on Friday that a police team fired several shots into the house of the deceased in an attempt to force him out for interrogation after a Fulani herdsman claimed that his cattle has been gunned down by a farmer suspected to be the deceased.

"After the gunshots, the police forced and broke into the room of the suspect and found him dead with gunshot wounds on his body in a pool of blood," the report quoted a resident, Mathew Afrani, as saying.

However, GhanaWeb understands that the aftermath of the shooting incident was a chaotic scene which saw the burning of some properties in a reprisal attack by the family of the deceased.

The family and tribesmen of the deceased following the shooting incident reportedly stormed the residence of the Fulani herdsman and set his home ablaze.

They further torched a provision shop also belonging to the herdsman.

Videos of the incident sighted by GhanaWeb showed the house in flames with heavy smoke billowing.
The situation according to GhanaWeb sources has led to heavy tension in the town of Maame Krobo.

Meanwhile, the Ghana Police Service is yet to officially comment on the matter.

The District Chief Executive of the area, Evans Kyei Ntiri has expressed displeasure over the killing and the subsequent violence.

He explained that he had a call from the District Police Commander who informed him of the incident.



He said, according to the Police, the deceased (Kwasi Ahoku) tried to face off with the policemen when the police got to his residence.
"He challenged the police that he is also in possession of a gun which escalated the tension and resulted in many warning shots released in the skies. As the police broke into the room, they saw the man dead lying beside his gun. We are still investigating the matter to know the actual root of the incident," Mr Ntiri is quoted in the report by Kasapa.





GA/SARA