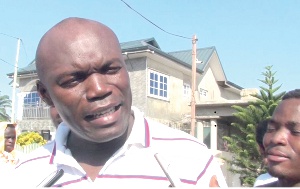 Thu, 17 Jan 2019 Source: Daniel Kaku
The Effia-Kwesimintsim Municipal Assembly (EKMA) has adopted new strategies to improve its revenue mobilization.
These strategies, the Assembly said would include capacity building for its revenue collectors to understand their role and apply same effectively.

They are also scanning property zones to widen local tax net, re-examination and evaluation of properties, and identifying businesses within the Municipality to bring on board many informal sector operators hitherto not covered among others.

The strategies, authorities noted forms part of the broader vision of the Assembly to leverage on its strength in the realization and application of funds for its development projects.

Speaking in an interview, Presiding Member of the Assembly, John Davies confirmed the adoption of the strategies whilst explaining that it was necessary for the newly created Assembly to adopt prudent measures to improve revenue collection and utilization.

The Metropolitan, Municipal and District Assemblies have been empowered by law thus Local Government Act 936 of 2016 to mobilize, manage revenues in funding their operations.
Unfortunately, many of these Assemblies across the country have been struggling to identify sustainable sources of revenue and how to collect them in order to actualize this legal directive, but EKMA wants to stand out in this revenue mobilization challenge.

"Assemblies are given three main revenue sources, thus locally generated revenues (traditional), central government transfers including common fund, and donor funding support (aid)" John Davies explained.

All these three sources mentioned above, the Presiding Member said are being explored by authorities manning the Assembly to improve revenue generation.

He said the Assembly realized there were many lapses along the revenue mobilization chain that needed attention and therefore decided to address them.

"We realized we needed to train or build the capacity of our revenue collectors, as the first step towards improving activities. We also realized we needed an accurate data to facilitate the process of building the revenue stream and we did that last year", he underscored.
In the process of doing all these, John Davies revealed that the Assembly realized Anaji, Mount Zion, Adentem, and Race Course, very popular areas within the Assembly were among communities they needed to pay attention to in order to deal with the lapses causing revenue shortfall.

Aside that, he said the Assembly has got plans to position second hand cloth dealers who have been moved from Sekondi Takoradi to the Apremdo market to trade as part of an ongoing relocation exercise being carried out to ease pressure within Central Business Districts ( CBD's) of Sekondi Takoradi Metropolitan Assembly and Effia-Kwesimintsim Municipality.

He said the fundamental objective of Ghana's fiscal decentralization practice seeks to guarantee the transfer of financial resources from central government to MMDAs, and the mobilisation of domestic revenue by the same local government authorities to facilitate development activities.

Consequently, he acknowledged that the process of generating internal funds for development by local authorities has never been an easy task "Many Assemblies struggle despite the powers vested in them with sufficient autonomy", he concluded.
Source: Daniel Kaku