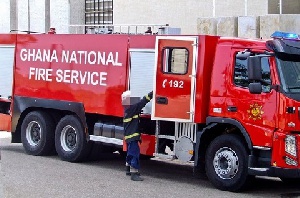 The Ghana National Fire Service in the Western Region has organised an Anti-Bush Campaign to inform and educate the public on bushfire and its effects.
The programme was held under theme "Our Future Depends on Sustaining the Environment let us Prevent Bushfire".

Dr Kwaku Afriyie, Western Regional Minister, in speech a read for him, said Bushfire had become an annual routine, especially during the Harmattan season and thereby causing loss to large track of forest and farmlands.

"It destroys crops, human lives and animal species, which had contributed significantly to the loss of one third of the country's forest cover.

"Bushfire is mostly cause by some activities like hunting, palm wine tapping, cooking in the farm, charcoal production, Honey harvesting and throwing of cigarette butts indiscriminately".

He said the destruction of the forest cover as well as economic trees like Cocoa, Oil Palm and medicinal plants, which are a major economic livelihood mostly for the people in the rural areas was a worrying situation.
According to Mr Afriyie, it was estimated that the country loses 210 million dollars to bushfire every year, which is equivalent to three per cent of the Gross Domestic Product (GDP).

He added that, sustaining the environment would improve the socio-economic status of citizen, especially those in rural areas who were mostly affected by the annual routine.

Dr. Afriyie advised the Metropolitan, Municipal and District Assemblies to create sub-committees in the various offices on bushfire prevention as enshrined in the PNDC Law 229 and also support Fire Volunteer with adequate logistics and other motivation packages.

The Regional Fire Commander, ACOF Emmanuel Quao, said the command had trained 1,272 fire volunteers from January 2017 to November 2018 and given uniforms, cutlass and safety boot for their work.

He encouraged the public to take safety precautions on fire handling and avoid preventable fires.