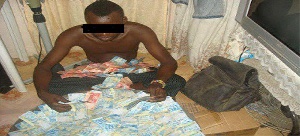 The Fiapre town in the Sunyani West District, is a state of shock after four young men were sighted eating faeces at a public toilet in the early hours of Friday.
The popular young men, suspected to be Sakawa boys, men who believe in the acquisition of money through spiritual means, have since fled the town.

When the Ghana News Agency (GNA) visited the town on Saturday, the spectacle was the talk of the town like wildfire in the dry season.

The GNA learnt that the four suspected "Sakawa boys" in their 20s, were sitting on bare floor at an abandoned public toilet in the town, feasting on the human waste around 0400 hours, but bolted when they were sighted by another young man.
Some residents told the GNA during a random interview that activities of "Sakawa boys" were gaining roots in the area, and appealed to the Police to intensify night patrols in the town.

"But this is not the first time this indecent happening has occurred in this town," one of the residents said, on condition of anonymity.