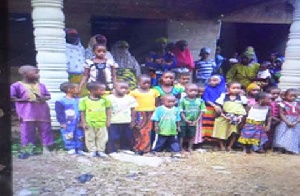 Information reaching DAILY GUIDE from Basari Line in the Sene East District of the Brong-Ahafo Region indicates that tension is mounting between Fulani herdsmen and Konkomba yam farmers, who are accusing the Fulanis of using their animals to destroy their yam farms.
The incident, which reportedly started a fortnight ago, has caused more than 500 women and children of Fulani descent to flee their communities and are now said to be dwelling in the open.

According to the spokesman of the Fulanis, Charles Amoako, who spoke to DAILY GUIDE in a telephone interview on 12 August, 2017, the Konkombas accused one of the Fulanis of using his cattle to destroy six mounds of yam.

The yam farmer demanded compensation of GH¢1,200, but pleaded with him for reduction which was reduced to GH¢800.

That was after the Fulanis had been arrested and sent to the Kwame Danso Police Station where the negotiation was carried out in the presence of the police.

Charles Amoako said as the negotiation was going on, the Fulani women and children fled the Basari community because the Konkombas had gone to indiscriminately shoot their livestock.

He alleged that they also set fire to their thatch buildings and even threatened to kill the women and children.
As a result, about 562 Fulanis, mostly women and children, fled the community and up to date, they were still staying in the open.

Mr Amoako said after killing the animals the people took some of the carcasses away.

He said the District Chief Executive (DCE) of the area and the police commander had not acted on reports made to their outfits.

According to the spokesman, the paramount chief of Basa Traditional Area, Nana Owusu III, gave the Fulanis pieces of land for their cattle to graze on some six years ago and so he (Charles) did not understand the attack on them.

The Sene East District Police Commander, ASP Kinsley Dompree, failed to answer several calls to his phone.