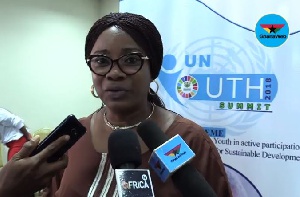 The Department of Gender of the Ministry of Gender, Children and Social Protection has held a programme to empower adolescent girls to better deal with the pressures that come with their age and gender.
The programme, which was in collaboration with the Ningo Prampram District Assembly (NiPDA), sought to bring to the girl child the knowledge and understanding to develop herself to become a responsible adult.

In a presentation on Tuesday on Sexual Reproductive Health (SRH) at the Prampram Methodist Church, the District Director of Health, Ningo Prampram, Madam Gifty Ofori Ansah, indicated that there was the need to counsel the adolescent regularly "because if people ended up in the wrong way it's not because they wanted it that way but because they did not get people to counsel them."

Madam Ansah said what society expected from the adolescent girl was for her to grow to become a responsible adult who would contribute meaningfully to national development.

She however indicated that if care was not taken at the adolescent age, "You will end up becoming an unhealthy adult who would pass poor physical and emotional health to your children, community, and the nation."

She informed, that contrary to what most teenage girls thought, pregnancy was the least one could get when one had unprotected sex, citing diseases, mental health challenges, etc. as some of the many problems early sex brought about.
Madam Ansah indicated that acquiring diseases would mean that the child may not be able to take advantage of the opportunities the State offered, such as free Senior High School education, to develop the young into responsible citizens.

She expressed worry over the high teenage pregnancy rate in the Ningo Prampram District which she said needed urgent intervention.

According to her, 889, 789 and 420 girls between ages ten to 19 got pregnant during the years 2016, 2017 and 2018 in that order.

In terms of HIV/AIDS prevalence in the Ningo Prampram Area, she indicated that ten adolescents contracted the disease in 2016 whilst ten and 13 contracted it during 2017 and 2018 respectively, therefore the need to intensify campaign to save the girls from destroying themselves at such tender ages.

She inspired the young girls to focus on building a future by saying, "Owe it a responsibility to lead yourself. If you don't lead yourself, others would lead you. Know where the good information are and go for them."
Madam Theodora Mohenu, Administrator, Domestic Violence Secretariat, Ministry of Gender, Children and Social Protection, in a presentation on Gender Bases Violence (GBV), informed that children exposed to violence grow to become violent themselves and therefore would see nothing wrong when violence is perpetrated against them.

Madam Mohenu said gender-based violence were meted out to mostly women, observing that in all societies women go through violence from their infancy through adulthood, old age and throughout their life cycle.

"Some are denied education, healthcare and food; some are forced into early marriages, raped, undergo forced labor, prostitution, and sex exploitation," she added.

Madam Mohenu advised the girls to know the avenues they could use to address their needs, recommending places such as Domestic Violence and Victim Support Unit (DOVVSU) of the Ghana Police Service, the Ministry of Gender, Children and Social Protection, etc.

The Ningo Prampram District Chief Executive, Mr. Jonathan Teye Doku, told the girls to take education seriously, indicating that, "Once you limit yourself, all manner of people will take you for a ride. You must go to school, get decent jobs, and then responsible men would come for you."