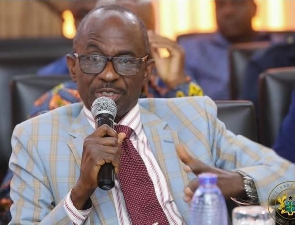 The general secretary of the National Democratic Congress (NDC), Johnson Asiedu Nketia, has blamed the rise in crime in Ghana on the inability of state institutions to deal with the menace.
According to him, it is wrong to assume Nigerians are responsible for criminal activities in Ghana.

He added that tagging Nigerians as criminals is unfortunate as the state institutions have failed to work with laws to deal rightfully with criminals.

"The right for migrants is a human right; the issue has to do with the laws of the country. Any foreigner who comes to a country needs to obey the laws of the country, but our problem is that we have failed to allow the laws to work in our institutions and so we cannot blame Nigerians for all these problems," he explained.
He went on to say that people of other nationalities are also involved in crimes, and for that reason, it is wrong to say Nigerians introduced crime to Ghana.

Per a report by Adomonline.com, he went on to say that there are criminals in every country's population and profiling Nigerians as criminals is wrong.

YEN.com.gh understands that the involvement of Nigerians in high profile crimes in recent times has caused resentments for Nigerians in Ghana.