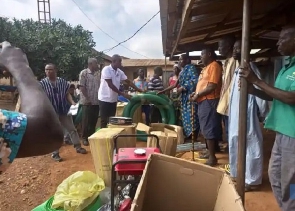 Sat, 25 Mar 2023 Source: GNA
Some communities in the Guan District of the Oti Region have received irrigation machines, safety items and financial support to boast agriculture and ecotourism.
The district is blessed with tourist sites; caves, fascinating scenery (mountains), waterfalls, and streams, apart from the agricultural potential.

The Accelerated Rural Development Organisation (ARDO), a Non-Governmental Organisation, with support from the New England Biolabs Foundation-USA, donated the irrigation machines and accessories, safety items and cash to groups at LikpeTodome in the Guan District.

Two vegetable-farmer groups from Lolobi-Ashiambiand Likpe Bala received two irrigation machines and accessories worth GhC38,600, while a cash amount of GHC1,200.00 was handed over to Mr Paul Onai, the Chairman of the Anti-wildfire Volunteer Group, at in Lipke Bala, to support firefighting activities.

Another ecotourism group from Likpe Todome, an area endowed with six ancestral caves, also received 200 metres of climbing safety ropes, 20 galvanized rods, and 20 bags of cement, worth GHC11,800.00, to enhance the work of members.

Mr Nicholas Mensah, the Chairperson for the Community Environmental and Ecotourism Management Committee (CEEMC), received the donations on behalf of the groups, at Likpe Todome.
Presentation of two years rent advance to Bala Fire Volunteers Chair

He appealed to individuals and organisations to assist the communities to conserve the environment, improve agriculture, preserve cultural heritage, and mitigate climate change effects.

Nana Kadjangla IV, the Chief of Likpe Todome, expressed appreciation to the NGO and Foundation, for their support to promote eco-tourism and minor-season vegetable farming in the district.

He called for the preservation of the caves and Wadzakli falls/stream, by restoring or protecting the vegetation and ecology around those natural resources, to promote tourism and improve the livelihoods of the people.

Mr Pascal Benson Atiglah, the Executive Director of ARDO, appealed to the chiefs to collaborate with their counterparts in Togo, to prevent the annual cross-border fires, caused by cattle herders.
He cautioned the people against bushfires, which aggravate climate change effects and environmental degradation.

Mr Elias Zuri Domernya, the assembly member of Likpe Todome, noted that minor season vegetable farming played a significant role in the livelihood of the people, hence must be given the necessary support.

The chiefs and elders of Todome, where the ancestral caves and the Wadzakli streams can be found, as well as farmer groups from Lolobi-Ashiambi and Likpe-Bala were present at the presentation.
Source: GNA