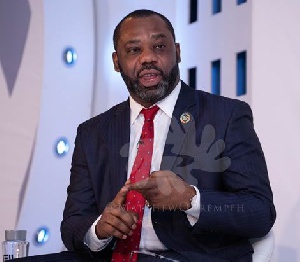 New Patriotic Party (NPP) Member of Parliament (MP) for Manhyia South, Dr. Matthew Opoku Prempeh has made another startling revelation on the 500-bed military hospital at Afari in the Atwima Nwabiagya Municipality of the Ashanti Region.
Speaking on Angel 96.1Fm's flagship program, Angel in the Morning, he revealed that he made Otumfuo invite former defence minister during Mills-Mahama administration, Lieutenant General Joseph Henry Smith (Rtd) over the construction of the military hospital at Afari.

"The initial plan was to construct the military hospital opposite Prempeh College during Kufour's administration. When NDC took over power, they decided to use that money to renovate 37 Military Hospital. I was in Harvard when I called Brigadier Smith and threatened to report him to Otumfuo if they attempt using the fund for a different project other than the hospital. In fact, I made Otumfuo invite him," he said.

'NAPO' as he is affectionately known added that the opposition NDC sold the allocated land and claimed the project is huge and needed a bigger space.

"John Mahama and the NDC sold the land allocated for the military hospital and even decided to spend the money on a different project. It was Benito Owusu Bio who suggested Afari lands to them. These people are good at nothing and has nothing good to offer the Ashanti Region," he added.
The 500-bed Military Hospital in the Atwima Nwabiagya District of the Ashanti Region will be completed and opened this year, President Nana Akufo-Addo has said.

The facility which begun in 2014 at a cost of US$180 million and contracted to the EUROGET Group, was expected to be completed and handed over to the state by the end of the first quarter of 2019.

But the project completion has delayed for sometime now.