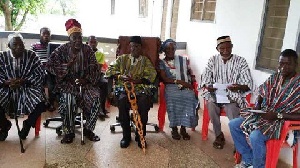 The Jirapa Traditional Council has called for peaceful resolution in the impasse in which some assembly members initiated a process seeking to impeach the Municipal Chief Executive (MCE) Mrs Christine Bomannye Amadu.
Some 18 members of the Assembly had petitioned the Presiding Member for the removal of the MCE, who they accused of flagrantly breaching procurement laws, disrespecting Jirapa traditional chiefs and leaders as well as engaging in reckless spending.

Mrs Christine has profusely denied all the allegations as complete falsehood and without merit which the disgruntled assembly members brought up in an attempt to thwart efforts she was making to help bring development to the people.

The traditional council early this month in a press statement also denied the claim that the MCE was disrespectful to the chiefs of Jirapa.

Naa Alhaji Baburonuou Amadu Hassan, the Spokesperson for Jirapa Traditional Council, in a press briefing on Monday, said the Council after going through the allegations directed the assembly members involved to drop the matter and allow development and peace to prevail.

He said after a dialogue process was initiated and a directive given to all factions to cease the bickering, the council found there were still a lot of unpalatable issues circulating on social media.
The directive followed an invitation extended to all the 50 assembly members for dialogue by the Traditional Council but only four of them including the Presiding Member honoured the invitation.

He added that the intervention of the Council in the standoff was meant to foster peace, engineer unity and propel development efforts in the municipality for improved living conditions of the people.

The Spokesperson warned those behind the impeachment and disturbances that the chiefs as custodians of the land would be compelled to invoke sanctions against them if they failed to comply and avail themselves for mediation and dialogue.

He also condemned repetitive agitations against Chief Executives in the municipality, saying: "the wrangling about DCEs [District Chief Executives] in Jirapa has been far too long and must stop for development to take place."

He reminded the assembly members that the chiefs were also stakeholders in the assembly hence the need to involve them in their deliberations.