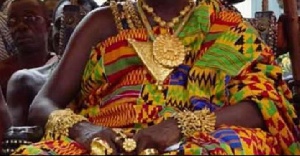 All nine (9) suspects including a self-acclaimed paramount chief of Kumawu Traditional Council, Bismark Tweneboah Kodua V will be put before court today.
The suspects were arrested on Monday dawn from their various hideouts for allegedly launching attacks on police/military personnel deployed to maintain peace in the area.

Public Relations Officer (PRO) for the Ashanti Regional Police Command, ASP Yaw Nketia-Yeboah gave background of their arrest to journalists at media briefing.

According to him, last month, there was a funeral for a destooled chief of Kumawu where intelligence were picked by police that followers of a 'self-acclaimed' chief, Bismark Tweneboah Kodua V are preparing to attend the funeral as the paramount chief of Kumawu with the effect that there was going to be a clashes between followers of the original chief, Barimah Sarfo Tweneboah Kodua.

Personnel were therefore detailed to maintain peace and order by preventing Bismark Tweneboah Kodua V and his followers from entering the funeral around through human wall that was built.
In the process, the followers of the self-styled chief threw improvised petrol bombs at the personnel injuring four of the peacekeepers.

At Boduamase , armed men numbering about fifty led by one Kwasi Baffour shot at and injured some of the security personnel who were rush to Komfo Anokye Teaching Hospital for emergency treatment.

They were later arrested to face charges of rioting with offensive weapons, causing harm, causing damage and attempted murder among others and due for court today.