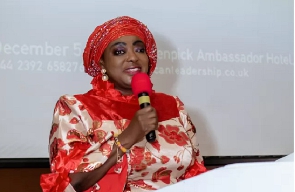 Mon, 21 Aug 2023 Source: GNA
The Ministry of Sanitation and Water Resources has deployed sanitation guards, nationwide, to check and control the indiscriminate dumping of plastic waste and refuse.
In the interim, the "ununiformed" sanitation guards are spread across some major cities and urban centres including Kumasi, Sekondi-Takoradi, and Tamale.

Those who would be found littering around or throwing plastic waste and polythene bags would be made to pick them up, pay a spot fine, or face prosecution, Dr Freda Prempeh, the Sector Minister, has stated.

The Minister was interacting with the media after she inspected work on the evacuation of 10 refuse dumps in some communities in the Tano North Municipality of the Ahafo Region.

The Ministry, in collaboration with Zoomlion Ghana Limited, a private waste management and sanitation company, is evacuating the refuse dumps, which had been in the communities over the years.

Already, it had evacuated some refuse dumps at Terchire, Nsesreso, Jerusalem and Bourkrurkiwa near Duayaw-Nkwanta, the municipal capital, and constructed some toilet facilities in some of the deprived communities to serve the people.
Dr Prempeh, also the Member of Parliament for Tano North, said the Ministry was engaging relevant institutions and key stakeholders to draft a bill that would support and sustain the nationwide exercise, which sought to promote environmental cleanliness and control the outbreaks of communicable diseases.

She expressed disgust about the bad attitude of some Ghanaians towards environmental protection and hoped the exercise would not only keep the environment clean but change the poor attitude of some people towards sanitation practices.

The Ministry was working hard towards the segregation and recycling of waste for other purposes, she said, and thus called on households to desist from keeping plastic and other waste materials together.

She urged the public to cooperate with the Ministry and support the exercise to achieve desirable outcomes in order to channel the huge sums of money the government spent on waste management into other development ventures.

Mr Sampson Akwettey, the Acting Director, Environmental Health and Sanitation at the Ministry, said bad sanitation practices remained a huge problem in the country, which ought to be tackled decisively and proactively.
He said the outbreak of communicable diseases such as cholera and typhoid was due to poor sanitary environment and cautioned the people against indiscriminate waste disposal.

Mr Edward Ziddah, the Ahafo Regional Coordinator of Zoomlion, told the Ghana News Agency the firm was evacuating 33 refuse dumps in the entire region.

At Nsesreso, Mrs Clara Adu Sarpong, a resident and an opinion leader, expressed appreciation to the Ministry for evacuating the refuse dumps.

Hitherto, she said the refuse dump served as breeding grounds for rodents and snakes while malaria was common because of the mosquitoes. 
Source: GNA