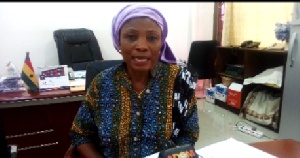 The District Chief Executive for Bole Bamboi in the Northern Region, Veronica Alele Herming was prevented from commissioning a market facility for residents of Bamboi by local executives of the ruling New Patriotic Party, over accusation that she came to perform an official task in the area without their knowledge and permission.
The DCE was in Bamboi on Wednesday to commission some new stores for market women to provide enough space for traders in the town but was stopped before she could even get to the durbar ground where chiefs and opinion leaders had waited for several hours.

The project comprised of 12 lockable stores and 12 open structures to be occupied by the traders including petty hawkers.

Assemblyman for the area, Mr. Emmanuel Kyirankwa said the party executives quickly confronted and distracted the DCE as soon as she arrived in the town and was making her way to the project site for the official duty.

He said the DCE was later invited to the party office for a meeting and after vigorous scrutiny the executives unanimously decided not to allow the DCE carry out the function for failing to inform them before the trip to the area.

The party executives were infuriated Madam Alele was undermining their authority and asked her to return to follow due process by serving them a notice before she could come and commission the project.

The chiefs present at the ceremony ground tried to intervene but the executives turned down their pleas and all other respected voices were disregarded forcing the DCE to quietly walk back into her car and leave.
"They (executives) called her and said she didn't inform them officially before coming so because of that they are very aggrieved and said she should go back and set a date before coming", the assemblyman said, criticizing the decision by the party members.

According to Mr. Emmanuel, Madam Alele raised no protest when she was told she could not be allowed to commission the project except she attempted to explain to the executives the need to delink her official duties from party activities.

The Assemblyman said the entire community were not happy with the attitude of the party local leaders and wants the constituency executives to intervene. He said currently most traders were selling at overcrowded and chaotic joints and under hostile weather conditions.

"The women, because of the rainy season and the current situation they have to get stores and start to start operation, so in fact, they are not happy and the entire community are not aware of it".

Bamboi is an important revenue earner for the district because of its strategic location and ongoing mining activities around Banda Nkwanta. A longstanding land dispute between the Gonjas in Bole and the Mos in Bamboi has affected relationship between the two towns.

The DCE wasn't immediately available for response.