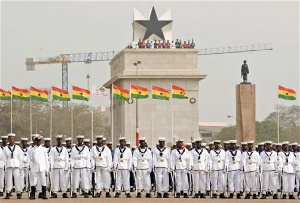 Wed, 30 Sep 2015 Source: Daily Guide
Fishermen in the Shama District of the Western Region have expressed disgust at the manner in which personnel of the security services raid their beaches to seize fishing nets banned under the Fisheries Act.
According to the fishermen, the security personnel normally chase them, collect their nets and cut them into pieces.

The fishermen revealed that so far 35 fishing nets and three generator sets belonging to them have been destroyed by a team of Navy and Marine Police personnel.

They claimed that the presence of the security personnel at their shores, mainly in the four coastal areas of Kesewokan, Abuesi, Aminano and Shama, creates fear in residents.

According to them, they could not fathom why officials from the Fisheries Commission and personnel from the Ghana Navy would continue to seize their illegal fishing nets when the government had failed to import the approved nets for them to use for their fishing activities.

They argued that government should have imported the approved fishing nets before the law banning the usage of mofilament nets was enforced.
Augustine Nyamekye, spokesperson for the fishermen, stated that "we believe that before our nets would be seized, government should make available the approved nets for us to buy."

Speaking to DAILY GUIDE, Nyamekye indicated that about a week ago, some armed military personnel stormed their beaches and seized about 35 fishing nets and threw three generator sets into the sea.

"How do we take care of our families now that our nets have been taken away without replacement? How do we pay our wards' school fees as schools re-open?" he quizzed.

He stressed the need for the law enforcers to be tactful in enforcing the laws, particularly now that the approved nets are not available on the market for them to buy.

"We will plead that the fishing nets seized should be returned to the fishermen because that is what they use to earn their livelihood, while we wait for the importation of the proper fishing nets," he added.
Mr Nyamekye complained that the price of outboard motor, which is GHc9,800.00 per one, was on the high side for the fishermen.

He pointed out that majority of the fishermen could not afford to buy the machine and pleaded with the minister for fisheries and President John Mahama to do well to make them affordable.

He appealed to government to construct sea defence walls on the coastline in the district, including Kesewokan, Abuesi, Aminano and Shama.
Source: Daily Guide