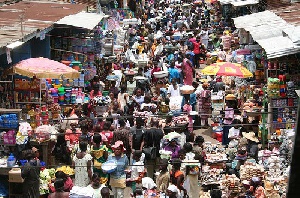 A business tycoon in Kumasi, the Ashanti Regional capital, Mr Sule Baah Bitee, reckons the call for the repatriation of some Nigerians in Ghana's retail space can adversely affect the economy.
Mr. Bitee's call as the Chief Executive Officer (CEO) of Oman Berlyn Enterprise comes in the wake of some Nigerian-owned shops getting looted or locked up in Suame a suburb of Kumasi by their aggrieved Ghanaian shop owners who say the Nigerians are taking business from them given that Section 27 of GPIC Act 865 forbids foreigners from Ghana's retail space.

Some observers, however, submit the law is contrary to the ECOWAS provision of free movement of goods and persons across the sub-region. The foreigners who trade in the retail sector selling clothes, electronic gadgets, operating food and beverage business and vehicle parts cite the ECOWAS protocols as the power source of their activity.

The June 19 event was also occasioned by fear of some Nigerians kidnapping their relatives according to the aggrieved traders.
Mr Sule Baah Bitee, an importer of mobile phones and its accessories operating his business from Kumasi submitted the Nigerians trading have helped to stabilize the country's economy thanks to their trading acumen adding a mass deportation exercise will adversely affect the economy.

"Nigerians play a major role in advancing business in the country. We should allow them in the market without intimidations. They trade in necessary goods and services that some local importers do not have the skill for," Mr Bitee disclosed in a Goldstreet Business Newspaper interview.

He urged the government to intervene and find a workable solution for both parties.