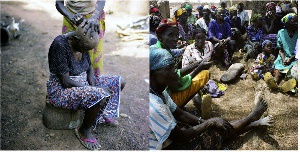 The Project Manager of "Presby Go Home" a Non-Governmental Organisation (NGO) working at the Gambaga Witch Camp has said the number of women accused of witchcraft is on the ascendency.
According to Sampson Laar, in January 2018 alone, 11 women were accused and sent to the Gambaga Witch Camp.

"This January alone let me tell you what happened in Gambaga, this very January 11 women have come. Eleven women have been accused. The numbers are rising," he lamented.

He however said with the support of the Paramount Chief of Gambaga, Gambarrana Yahaya Wuni, seven of the families were convinced to take the women back home.

His comments follow assertions by the Minister for Gender, Children and Social Protection that the alleged witches at the camps in the Northern region are reluctant to be reintegrated back into their communities.

Addressing parliament Thursday January 25, 2018, Madam Afisah Otiko Djaba said "We have visited the Gambaga Witch Camp and we've put some of them on LEAP and with the new LEAP, what we intend to do is that those who can be reintegrated, the various discussions between the community and the alleged witches will continue to go on.
"However, some of them don't want to go back to their communities because they feel that anytime something bad happens in the community, they are the first to be accused like when somebody's child dies or there is any mishap, and, so, because of that we intend with the new LEAP to provide the productive ones with skills training and wherever they want to stay we will support them to be able to live on their own."

However in an interview on Radio Tamale's Absolute News, Mr Laar discounted this assertion, explaining that only less than 10 per cent of the women are reluctant to go home and that these are women whose immediate relatives are no more.

He added that for the reintegration of the alleged witches and the subsequent closure of the camps to succeed, communities must be sensitized and educated to accept the women.

According to him, communities that have received sensitization from his NGO have stopped the practice.