Regional News Sat, 24 Feb 2018
Click to read all about coronavirus →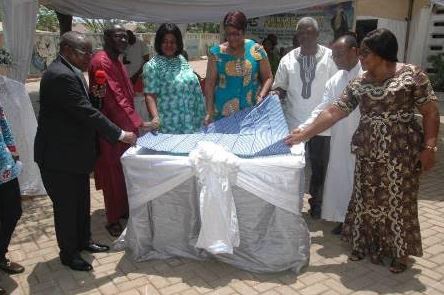 Our Lady of Assumption Catholic school(OLAS) at New Achimota has launched its 25th anniversary with a call on stakeholders to re-dedicate themselves to provide quality education to the students to take up future mantle of leadership.
Mrs Cecilia Lariba Awini, Regional Manager of Catholic Education Unit said, "providing quality, equity and holistic education, stakeholders thus teachers, parents and pupils should not see the school as a relaxation but rather a place where hardwork, dedication, skills acquisition, perseverance and most importantly self-discipline must be exercised to the fullest".

She said teachers should work as a team to take the training of the students seriously to achieve their goals.

Mrs Awini stressed that, teachers are supposed to lay formidable foundation which would give the pupils the academic energy and vigour which would serve as spring boards for them in their lives.

"It is said that a day with a great teacher is better than a thousand days of diligent study" she stated.

She said, parents should visit the school regularly and know the progress of their child and attend Parent Teacher Association (PTA) meetings and social functions of the school.
Mrs Awini said,students should learn hard to achieve high academic laurels in future.

The anniversary was on the theme; "Providing Quality, Equity and Holistic Education -the impact of the Catholic Mission".

Speaking at the launch, Mr Samuel Narh Kodji, GA West Municipal Education Director, noted that, in order for the institution to remain at top there was a need to ponder on ways of delivering quality education.

He added that, there should be a well-structured system of education with a mindful content of the readiness of the child to absorb what was taught.

Mr Kodji stressed that, all stakeholders should come on board and provide relevant infrastructure for the school.
"To provide equity education, we must at all times eschew favouritism, discrimination, and partiality"

Mr Alphonse Avevor PTA Chairman of the school said, as the theme suggested, a positive parent-teacher relationship would help the child to be successful in the school.

Speaking to the Ghana News Agency (GNA),Mr Eric Bonzun chairman for the anniversary planning Committee said, the school's computer laboratory had no computers, this he explained that, such a situation cannot enhance quality education.

He called on Minister of Education and all stakeholders to come on board to support the school.

OLAS was established in 1993 as a private school with a population of 15 boys and 22 girls and was integrated into the public sector in 2003 with current population of 1,300 students
Send your news stories to and via WhatsApp on +233 55 2699 625.