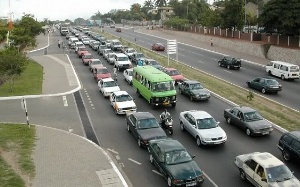 Sat, 18 May 2019 Source: GNA
The Progressive Transport Owners Association (PROTOA) on Wednesday threatened legal action against the Asunafo North Municipal Assembly for its failure to provide space for the Association to operate at the newly-constructed Goaso market and lorry station.
The Association said it had given the Assembly an ultimatum to provide space for more than the 70 drivers in the Municipality to move to the new location.

In an interview with the Ghana News Agency (GNA) at Goaso, the capital of the newly-created Ahafo Region, the Association said PROTOA drivers and their vehicle owners in the Municipality were unhappy that the city authorities were not cooperating to provide them space upon several engagements.

Flanked by some aggrieved drivers, Mr. Peter Ackom, the Goaso Chairman of the PROTOA, explained that before the new market and lorry station was constructed, the Assembly signed an undertaking with the Association in 2017 and assured them that space will be provided for them on completion of the project.

A copy of the agreement signed by Mr. Yaw Osei Boahen, the Asunafo North Municipal Chief Executive (MCE) which was shown to the GNA, said "Pending the completion of the market stores project, PROTOA could in the interim use the space in front of the Council yard for their operations temporarily".

"That PROTOA would relocate to a designated place within the market that will later be allocated to them by the Assembly as soon as the project is completed", it said.

Mr. Ackom said since the project was completed, the Assembly had refused to allocate a space for the Association upon persistent appeals, a situation which was seriously affecting operations of their drivers in the Municipality.
"Our drivers have on several occasions threatened to move to the new location, but because we are law-abiding citizens, executives of the Association continued to restrain them in the interest of peace. Gradually they are becoming fed-up and if we are not careful the unexpected could happen at the new station". Mr. Ackom said most of the PROTOA drivers who plied Sunyani-Goaso and Kumasi-Goaso returned "empty" because there was no designated space at the new station for them to pick passengers.

"The sad situation is pushing the PROTOA drivers to park and allow passengers to board their vehicles at unauthorised places, creating vehicular traffic in the capital", he added.

The GNA could however, not reach Mr. Boahen, the MCE but Mr. Mohammed Yakubu, the Asunafo North Municipal Coordinating Director, told the GNA the Assembly had already relocated the Ghana Private Road Transport Union (GPRTU) to the new station.

He said because of perceived rift between PROTOA and GPPRTU, the Assembly was being careful, and that it had decided not to allow the "rival" transport Associations to operate at the same location.

Mr. Yakubu added that the Assembly intended to provide designated space at a different location in the Municipality for the PROTOA and urged the drivers to exercise restraint.
Source: GNA