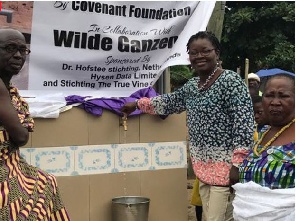 A mechanized borehole fitted with hand pipes had been completed for the Sekyere Himang community in the Wassa East District of the Western Region to supply the population with safe drinking water.
The borehole has a capacity to supply over 1,000 litres of water daily for the more than 800 residents. It was constructed by Covenant Foundation, a non-governmental organization (NGO) based in Holland.

At the official inauguration, the Chief Executive Officer (CEO) of Covenant Foundation, Grace Bassaw Quansah noted that access to potable water "had been a scarce commodity" in the community hence the decision to fund the construction of the project.

She explained that since its inception, the NGO had worked effectively with communities to ensure that people, particularly, children lived their dreams to play meaningful roles in development.

She pointed out that the value of water could not be underestimated and suggested that the borehole be managed as a business to generate funds for its maintenance to ensure sustainability.

The Acting Omanhene of Wassa Fiase Traditional Area, Dasabre Kwadu Kyerefo III mentioned that the NGO had proven to be a trusted partner in development.

He pledged his support to it in the implementation of projects and programmes that would benefit the people.
He hailed the NGO for the good job it had been doing, citing improved water, sanitation and hygiene among others, which had improved the living standards of the people.

He implored the people in the community to properly maintain the facility to prevent it from breaking down.

Dasebre Kwadu Kyerefo III stated that the chiefs in the area support the government's resolve to halt illegal mining activities, also called 'galamsey'.

"It is not right to allow illegal mining to prevail in the country. We must protect our water bodies and land," he added.

Describing the menace as disturbing, the traditional leader pledged his full support for the fight and campaign against illegal mining.